Seashells and beads are coming in hot for Spring. They were seen everywhere on the runways and we are loving the bohemian, carefree vibe they give off. One similar sea-inspired trend we believe is being slightly overlooked but is going to explode soon, is the pearl trend. Pearls were seen on the Dior and Marc Jacobs runways, updating the classic look with a modern twist.
It's not your grandma's pearls anymore. The sleek, classic pearls of the past are being replaced by rougher, geometric pearl necklaces, bracelets, and earrings this Spring. Edgier than ever before, the pearl trend is the perfect conversation starter for any outfit and will be sure to catch attention. Here are some perfect picks to catapult your wardrobe into Spring and provide the perfect accessory for your next outfit photo.
Get Your Pearls in a Row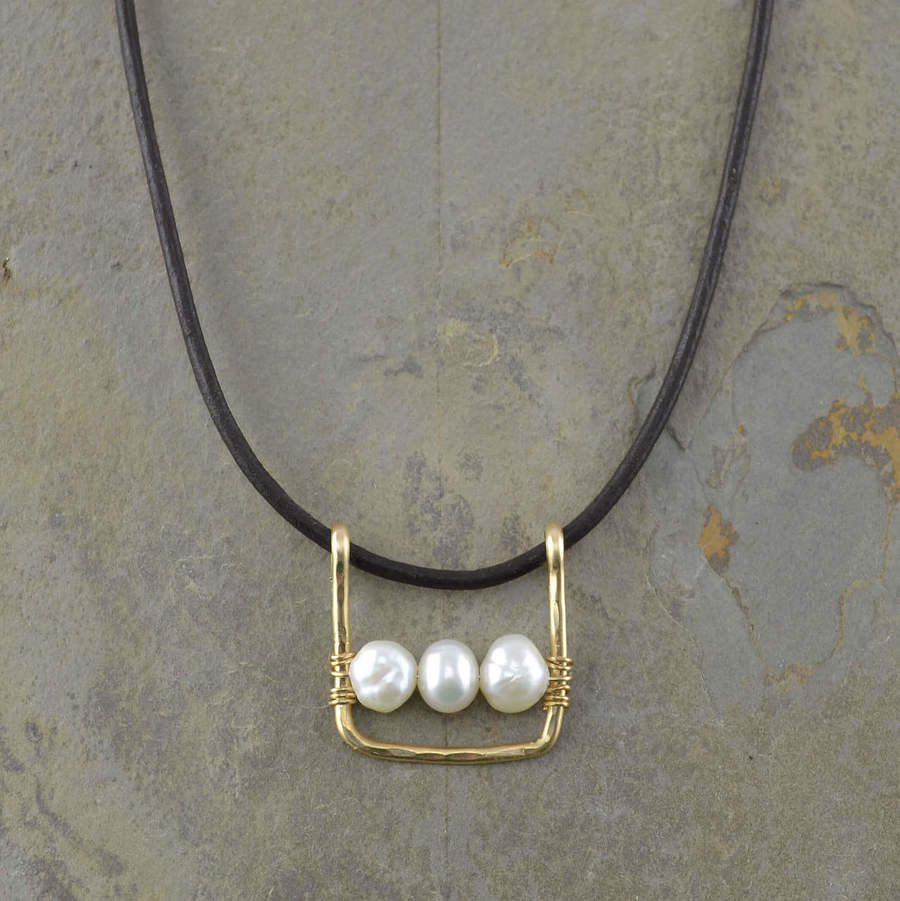 This pearl necklace is the perfect piece to add a little edge to your outfit. In place of a classic gold chain, this leather cord spices up your look and accentuates the gold filled center. Filled with three naturally cut cultured freshwater pearls, the unique geometric shapes are not to be missed. Just the right length to sit slightly below the collarbones, this pearl necklace is a must-have for Spring 2019.
Color My Pearls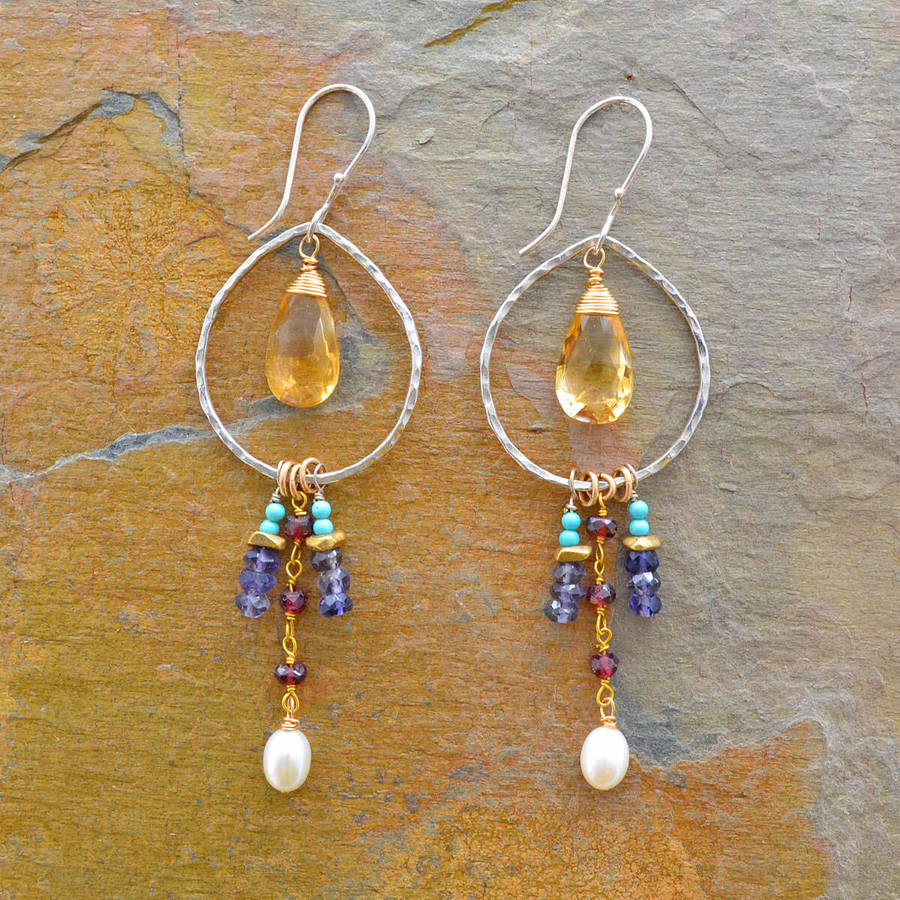 Another big Spring 2019 trend is colorful fashion- whether clothes, jewelry, bags, or shoes, bright colors ruled the runway. We love that these earrings combine bright colors and pearls, resulting in a totally unique, fun, and vibrant statement accessory. The red, purple, yellow, and blue stones add a playful element totally opposite of the way you normally see pearls styled. Grab these pearl earrings and brighten up any simple outfit with these bright gemstones.
Entirely Understated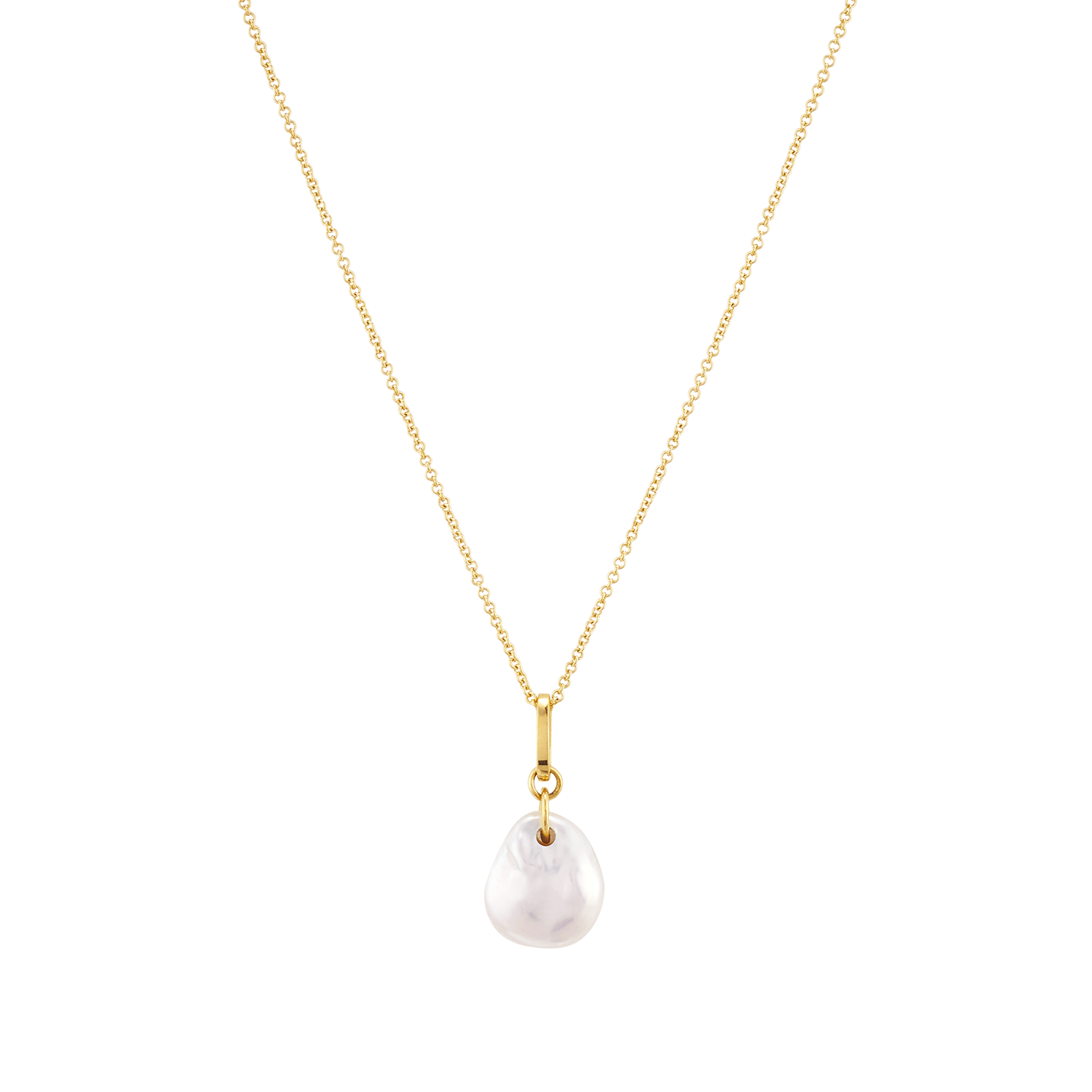 If you're still not over the dainty jewelry of the past few seasons, this is the pearl necklace for you. Featuring a simple chain and a single pearl, this piece isn't over-the-top at all. The perfect accessory for those of you who want something more understated that will highlight your outfit without drawing too much attention. Each freshwater pearl is unique and handpicked, meaning the necklace you get will be different than anyone else's.
Ball and Chain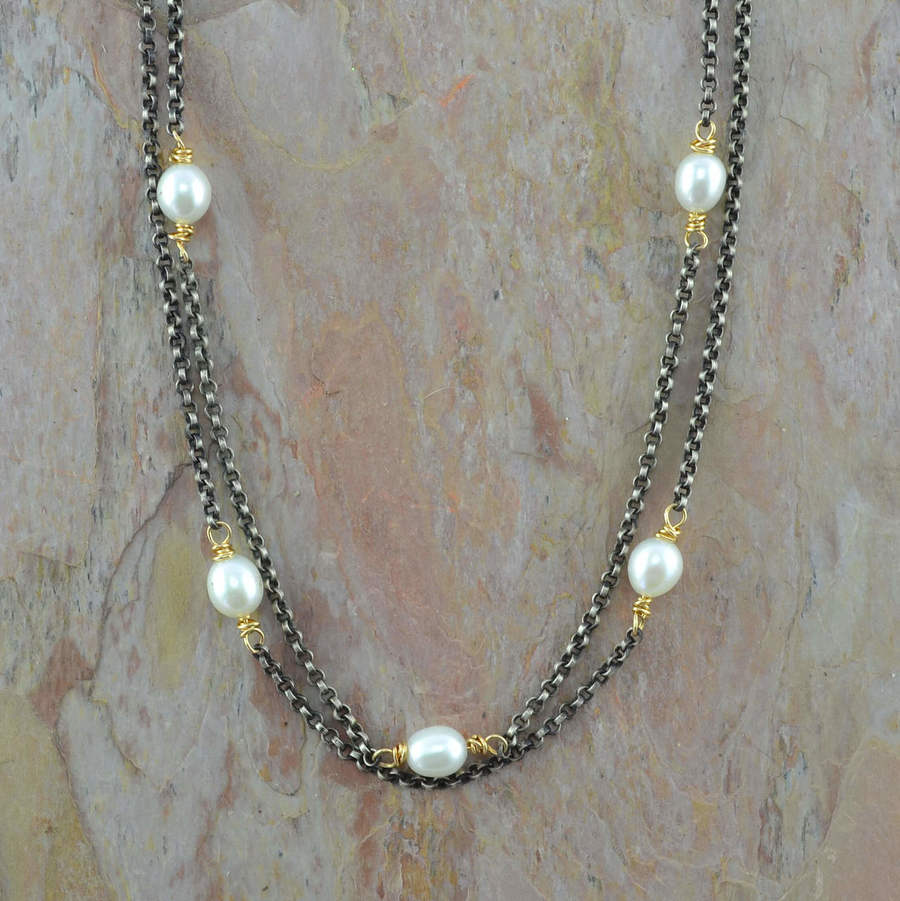 Another piece that perfectly combines two Spring 2019 trends is this chain necklace highlighted with periodically placed pearls. Chains were a major look on the runways, and including the pearl trend added just the right touch. Made out of sterling silver and freshwater pearls, we love the mixture of elegance and edginess that this pearl necklace provides. Unlike any piece you will find elsewhere, everyone will be wondering where you got it!
A Night Out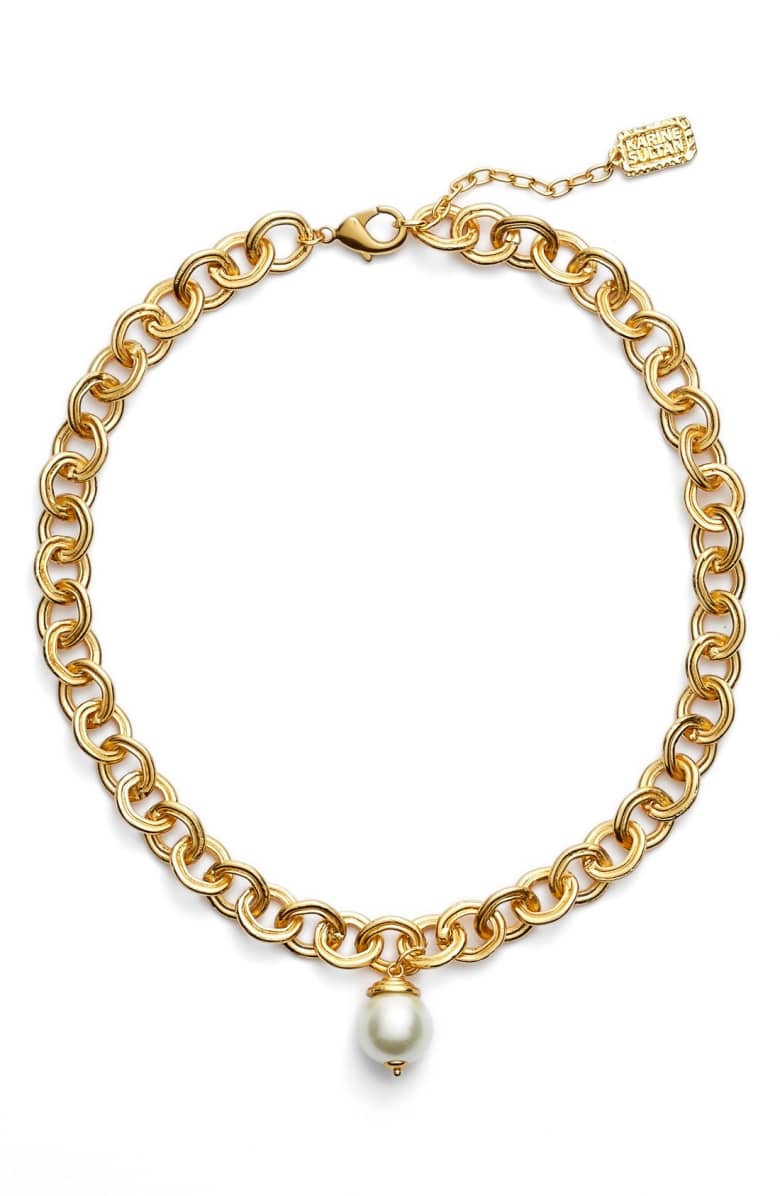 A different variation of the chain and pearl necklace trend, this necklace is perfect for a night out on the town. The oversized chain elevates the style and falls in line with the other statement jewelry pieces we are seeing for Spring. The pearl necklace is also the perfect length, sitting right below the collarbones, not quite a choker, but short enough to stand out over jackets and blouses. The single pearl highlights the rest of the necklace, and we love that this necklace comes in a gold or silver option
Ring of Rubies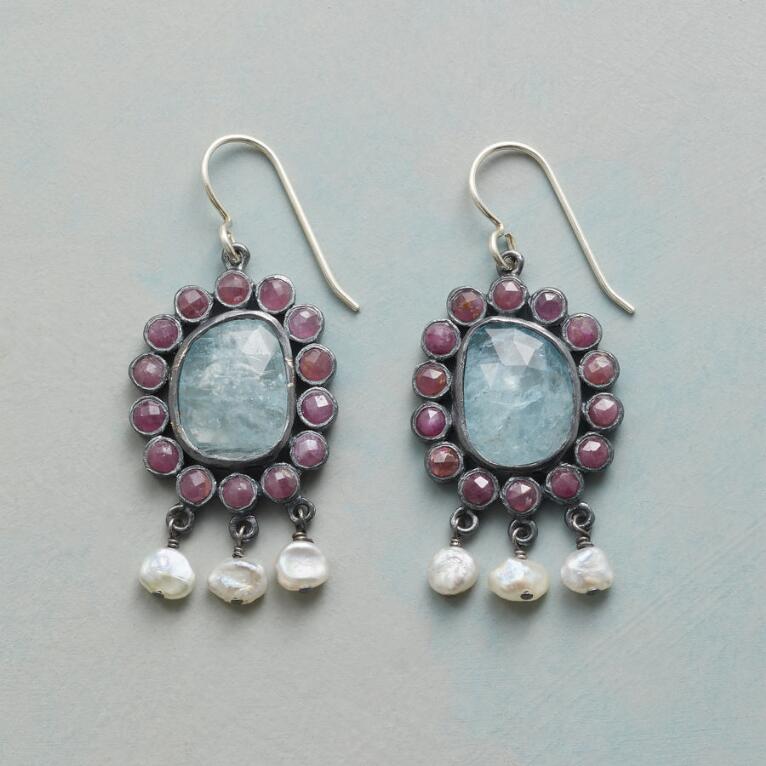 Made with rubies, aquamarine, and freshwater pearls, these earrings take a more natural route of the pearl trend. The icy blue of the large aquamarine stones circled by the rubies add in a bit of color to the pearl earrings, but they are still subdued. If polished pearls aren't your thing, check out these pearl earrings that give off a bohemian, raw look. You can definitely have fun with these, dressing them up or down to fit the occasion and outfit.
Imperfectly Perfect Pearls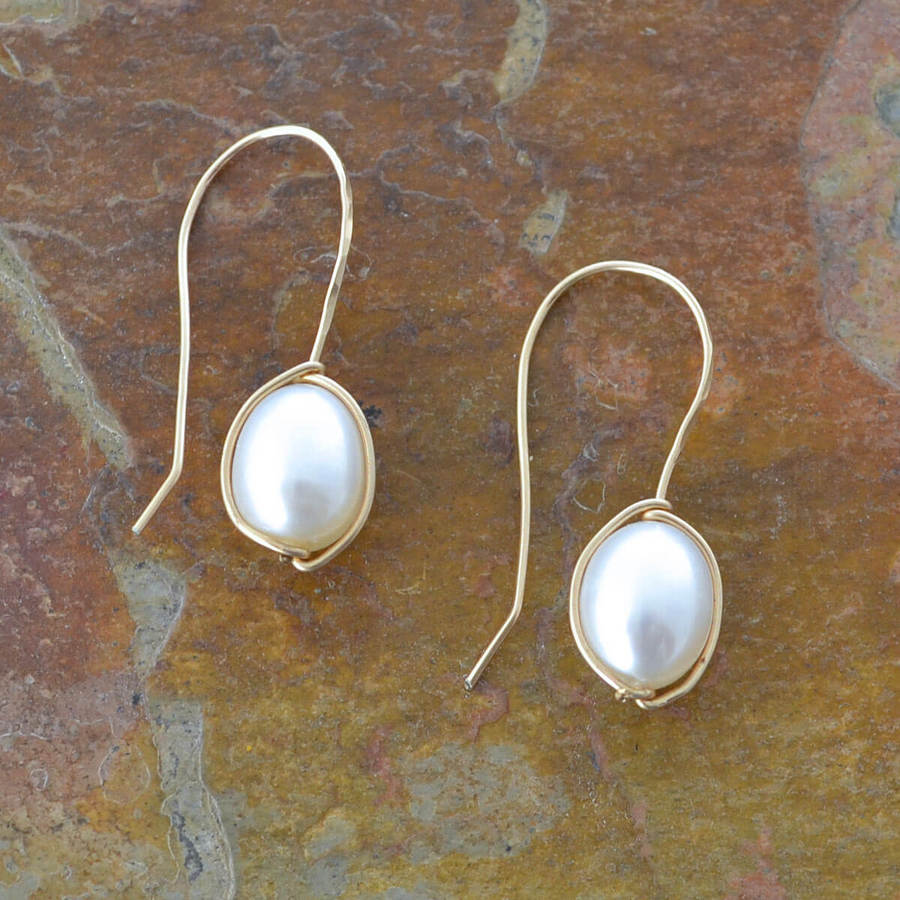 These delicate earrings are the perfect mix between the dainty trend we've seen the last few seasons, and the bolder, more statement-making styles we are seeing now. The pearls bring a classic touch to the earrings, while the gold-filled frames that imperfectly circle the pearls elevate the style to add a more modern, interesting touch. If you want to dip your toe into more daring styles but are hesitant, these are the perfect starter pair of earrings that totally fit the pearl trend.
Beaded Beauty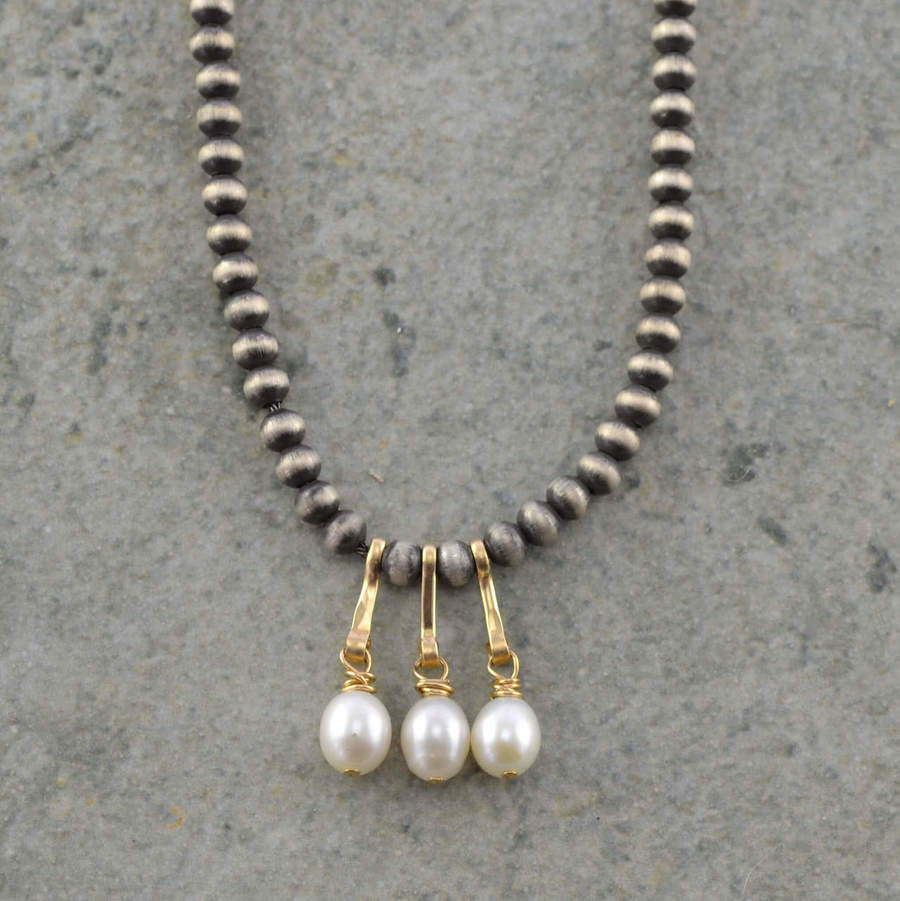 If you are loving the beaded trend this Spring, this necklace gives you the best of both worlds: beads and pearls! Three freshwater pearls hang from gold filled stems, meant to represent budding magnolias. We love the look of the sterling silver beads, which have been textured and hand oxidized. This unique piece is sure to stand out from the crowd as a totally new way to wear classic pearls that don't look stuffy or old-fashioned. We can only imagine the looks you will be serving with this pearl necklace.
Modern Pearls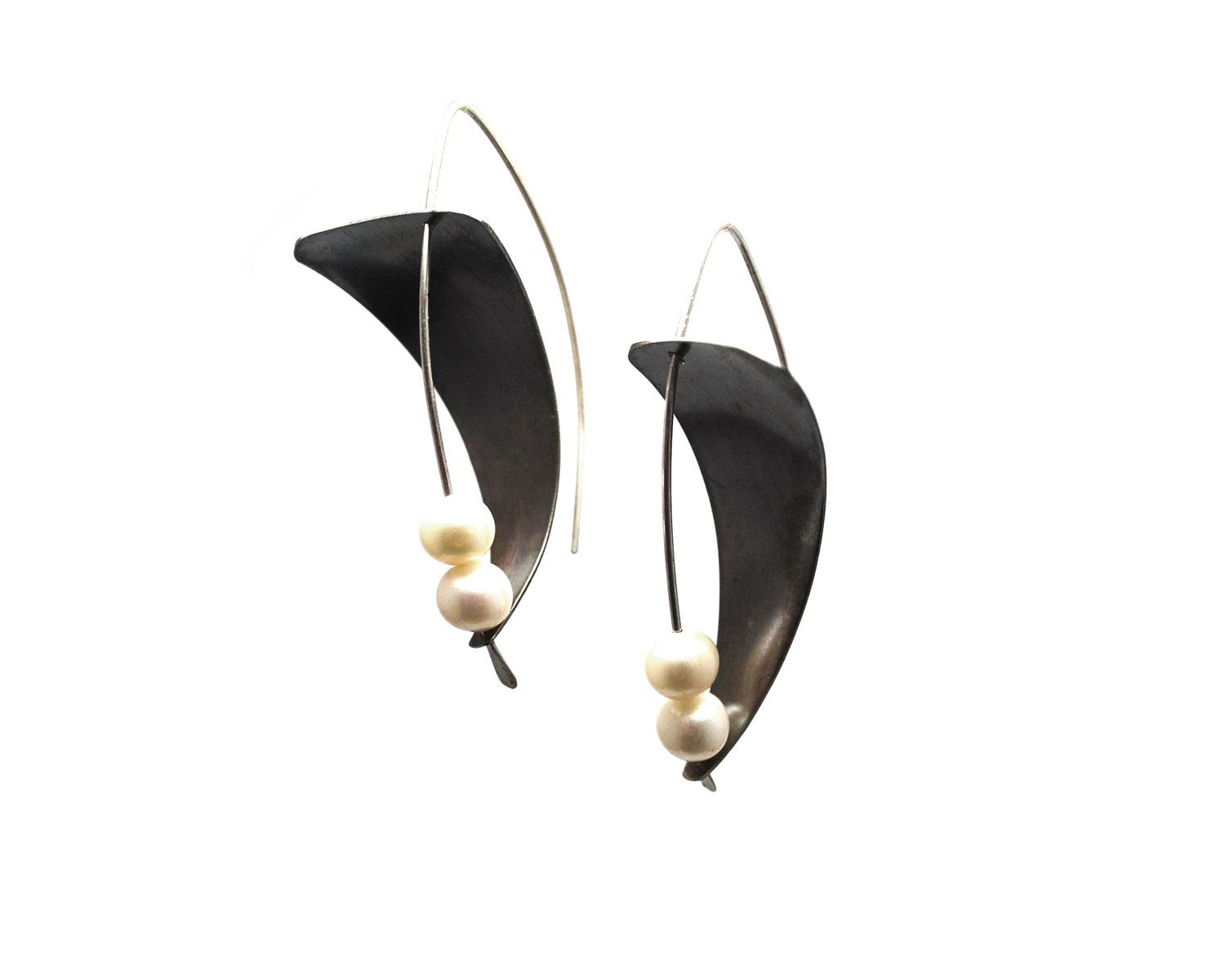 Pearl earrings with a contemporary edge, these are sure to take your everyday look to new heights. With a design that plays on geometry, these earrings are a clever version of the pearl trend that's taken the runway by a storm. The oxidized silver triangles frame the two freshwater pearls perfectly, different than anything that's currently in your jewelry box. If you are willing to take a risk, these daring pearl earrings will turn up the intensity of any look.
So, Grab Some Pearls and Head Straight into Spring
Although these are our favorite variations of the pearl trend for Spring 2019, there are many more options out there if these don't suit your style. We are loving the change of pace these new looks are bringing, moving away from simple pearl studs and strings to more fun, colorful, and bold pearl earrings and necklaces. If you want to see some other major jewelry trends for Spring 2019, check out these top 5 trends that rocked the runways. Here at Plumb Line Jewelry, we love designing unique, handcrafted jewelry based on the trends we are seeing for that season. Check out our newest pieces here to see how you can add simple, yet fashionable jewelry into your wardrobe for this coming Spring.