If you are paying attention to jewelry trends for spring/summer 2019, you are probably prepared to see major upgrades in the jewelry department this year. The runways moved away from the dainty, gold looks we've been seeing for the past few seasons and towards a bolder, more boho style. Coins, shells, charms and beads were everywhere, and one of our favorite trends is the resurrection of the bracelet! It's been all about necklaces and rings for quite some time, but now it's time to focus on the wrist. It's all about the handmade look this year and we love the unique, raw element it's adding to any outfit. Here are some of our favorite handcrafted bracelet styles that you can rock this year!
Charm Bracelets
When you think of charm bracelets, visions of velour tracksuits and platform flip-flops probably come skyrocketing back to your memory. It's true, charm bracelets were a staple of the early 2000's, but they are making a comeback and, dare we say, we're fans! Charm bracelets are extremely versatile and allow you to show off your own personal style. Our Parading Jewels Unique Charm Bracelet features a variety of gemstones and elevates style in a refined and classy way. This handcrafted bracelet is one of our favorites and is totally on trend.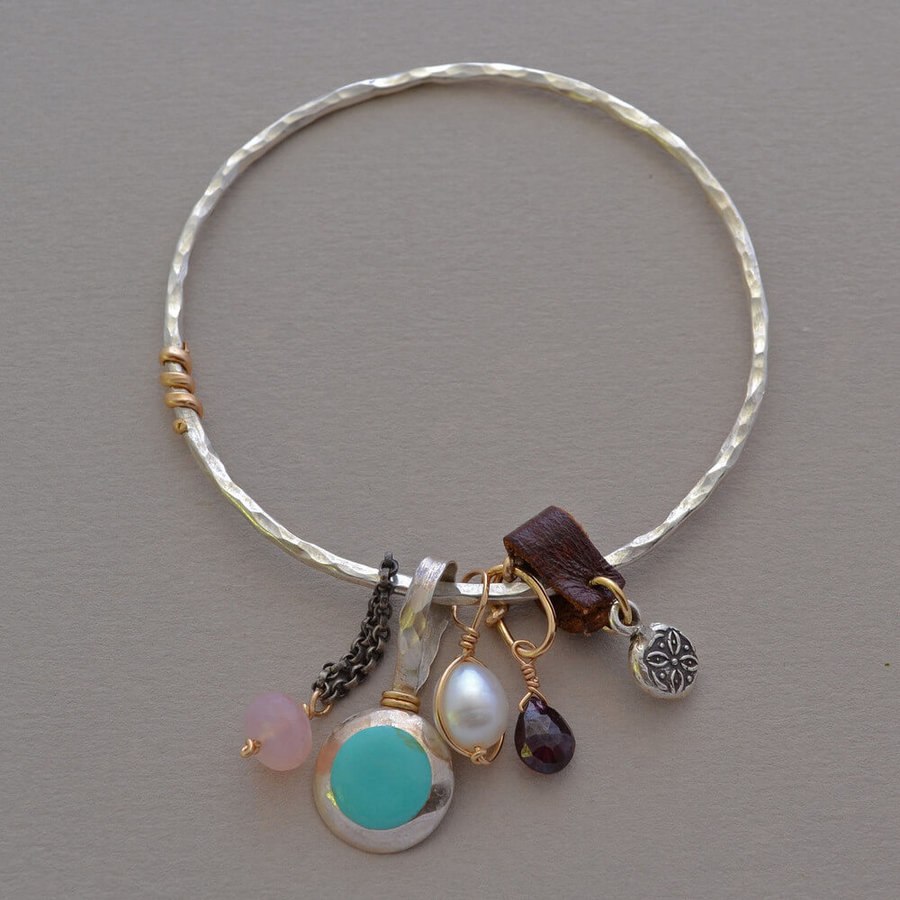 Beaded Bracelets
Another style stealing our hearts lately? The forever-classic beaded bracelet. Beaded bracelets will always be a mainstay in our closets and we love the approach the trend is taking on this year. Sticking to the handcrafted bracelet look, it's all about adding in different sizes and colors of beads along with even a few shells or gemstones. The result is a beaded bracelet that looks totally fresh and unique. We love this option from Nordstrom that was handcrafted in Thailand and incorporates beads and agate stones into the design.
Leather Bracelets
If charms and beads aren't your thing, try out a leather bracelet instead. Leather bracelets come in many forms and styles and can take any outfit to the next level. A leather bracelet can help add some edge to your look while not being too over-the-top. Go for a simple leather band or dress it up a little with some engravings or stones. Either way, you will look totally effortless and chic. Check out our Turquoise Drops Leather Wrap Bracelet that features a hand hammered sterling silver center with bright turquoise drops!
Cuff Bracelets
Cuff bracelets and bangles as a whole never go out of style, but the many variations of this trend are not so set in stone. We've seen sleek and thin, gold cuffs and bangles, along with shiny, bejeweled statement-making cuff bracelets. Now the pendulum is swinging to a less polished, bolder type of cuff bracelet. This can even incorporate some of the other handcrafted bracelet trends. Think a cuff bracelet that features beads and shells, or a leather cuff bracelet! The bohemian look of a handmade cuff bracelet will truly be the center of any outfit. This Granite Cuff from Sundance Catalog is sterling silver, and the handcrafted bracelet features hammer marks and a cut-out to add texture and interest.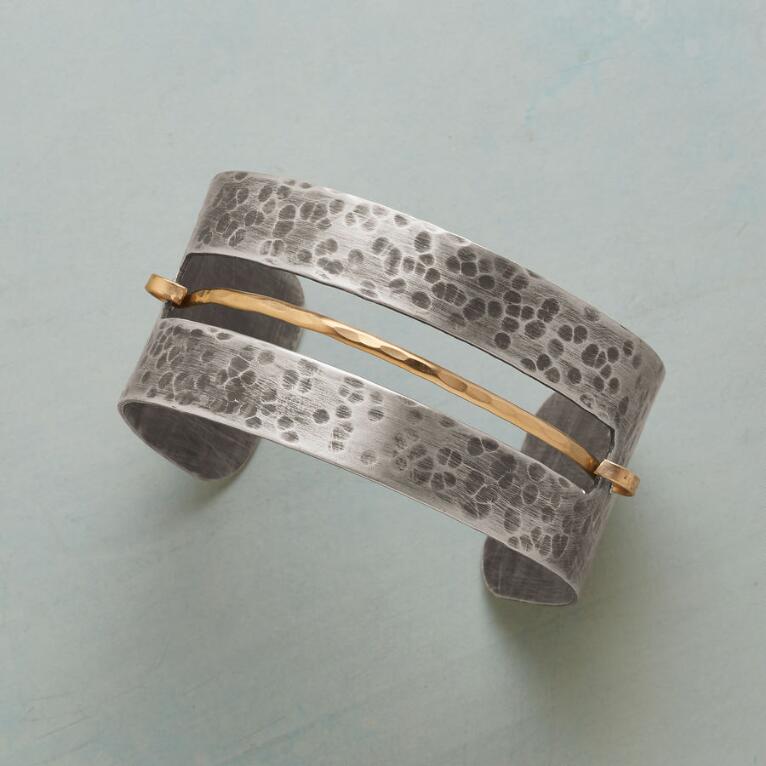 Sterling Silver Bracelets
Another way to embrace the handcrafted bracelet look is to add some sterling silver bracelets to your collection. Silver has been overlooked in favor of gold in recent years, but styles are slowly shifting- which is great because sterling silver is less expensive than solid gold while still maintaining the high-quality aspects! Another trick we like is to actually mix our metals. This means you can add a few sterling silver bracelets into your jewelry collection without setting aside your beloved gold pieces. Our Blue Sky Bracelet already incorporates mixed metals, along with a beautiful aquamarine stone. It would be a great sterling silver bracelet to start with!
Turquoise Bracelets
If you are into gemstones and crystals, this style of handcrafted bracelet is the one for you! Turquoise has taken a few years out of the spotlight, but it's back and better than ever. Turquoise is considered by some to be a sacred stone with healing energies that include peace, tranquility, balance, and alignment. Whether you believe in gemstones' healing properties or not, a turquoise bracelet is a great way to add some color and fun to any outfit. This turquoise bracelet on Etsy features a large turquoise gemstone as well as genuine leather.
Gemstone Bracelets
Moving on from turquoise, other gemstones are also a great way to embrace a handcrafted bracelet look. Whether you're looking at certain gemstones for their healing properties or for their color, there are a lot of options! Gemstones act similarly to beads, providing a more homemade and effortless feel, but they give a little more texture and look more natural. Gemstone bracelets can add a lot of color to your look (with bright, colorful jewelry being another big trend for the year). Try out our Over The Rainbow Handmade Gemstone Bracelet which gives you multiple types of gemstones in one bracelet! We love how fun and colorful this handcrafted bracelet is.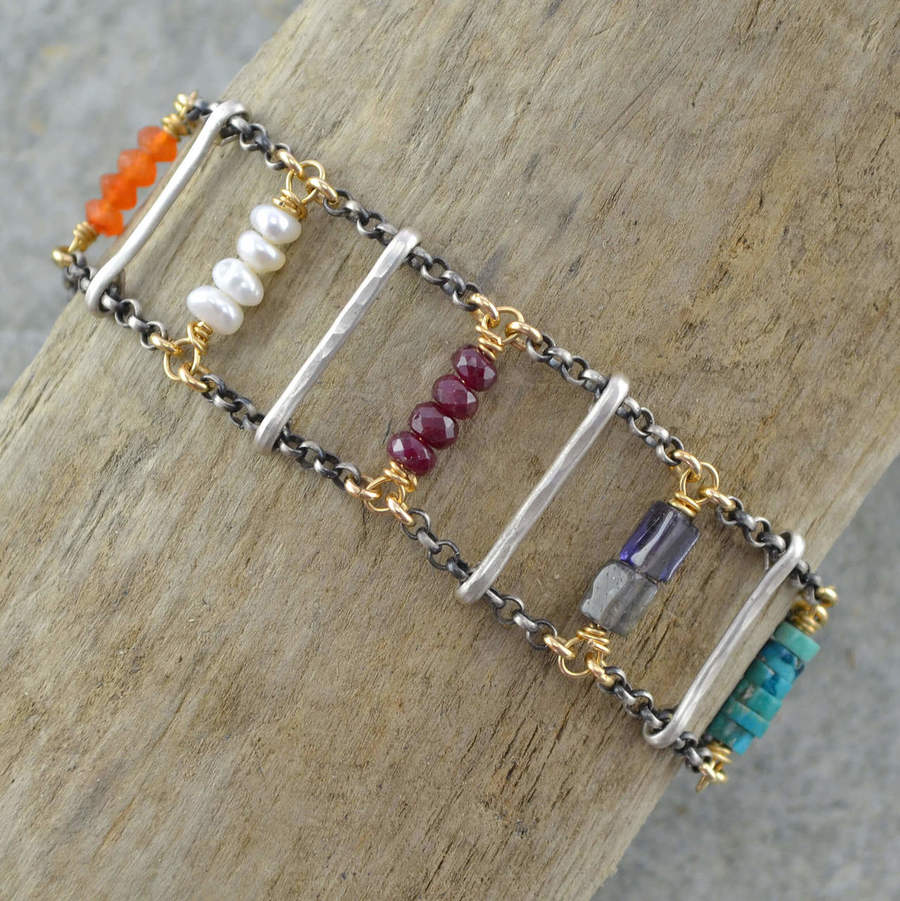 So, if you're looking for some new jewelry pieces to add to your collection for the coming season, consider how the handcrafted bracelet trend can totally change your look- providing an effortlessly cool and boho vibe. There are countless options for handcrafted bracelets and one of the best things about this trend is that it embraces high-quality, unique styles as opposed to mass-produced, cheap pieces. Check out our site to find many more options for handcrafted bracelets as well as handcrafted necklaces and earrings!